I must say, this has been a heartfelt week for me as a teacher.
Growing up, I had three role models that really inspired me.
Christa McAuliffe,
the science teacher that was on the Challenger Mission in 1986.
At 10 years old, I wanted to be an astronaut and live in outerspace!
At that exact moment when the Challenger exploded, I was glaring at the television, thinking, "Where did she go?" Through all the smoke and clouds, and hours of video footage later, my tears were slowing and my mom consoled me saying, "She's so brave to chase her dreams all the way into outerspace." It was at that very moment I realized that Christa was exactly where she wanted to be that day. She was a wife, mother, and teacher.....But she needed something more in her life. She became an ASTRONAUT! That is so amazing to me and I truly believe she was meant to be a HERO to us all. Her legacy: teach passionately and dream the impossible dream!
In college, I fell in love with the poems written by the late
Emily Dickinson-
Emily's poems touched my heart and inspired me to organize my thoughts & feelings and get them down on paper! Poetry was no longer reading words that rhymed but developing an appreciation for the ability to translate words into a heartbeat of complex emotions..... Emily's ability to take great risks to mirror the many layers of human complexity before audiences of strangers truly makes her a hero before her time.
I saved my favorite hero for last.
At seven years old, her first grade experience ignited a flame that still burns bright today..... Let me introduce you to Ruby Bridges.
Studying about famous Americans in History is something that we do all the time in our classrooms. But.....Learning how one child impacted the nation in such an incredibly brave way...Well that to me is worth a week-long study on this national icon!
Ruby has been such an inspiration to me that I created this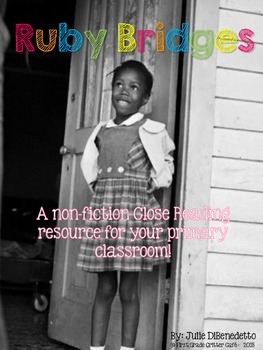 I made a short video on how I incorporate pages from the unit into a "reading packet" for the week. Take a look!
http://youtu.be/4VKqxyjG2B0
On our first day,
we anchored our new learning about Ruby to our Focus Wall.
On the second day of our Ruby studies, we practiced using our new vocabulary words in complete sentences with a partner.
We discovered the purpose of a Glossary this week!
The kids really enjoyed this timeline activity too!
These text-dependent questions trigger some serious thought....
I love the conversations that stem from great questions!
When it was time to write about Ruby, the kids knew exactly what are title should be......
First graders can use all their resources during writing time to help them develop their writing and spell new words.
Students are also encouraged to go back and use the yellow-highlighted vocabulary in their writing to "spice up" any drabby words.
Authentic Writing Sample 1:
Authentic Writing Sample 2:
I don't know about you, but I am feeling pretty inspired at the moment!!!
Thank you Ruby Bridges!
From our hearts, to yours!
We all have a hand in making the world a better place....
One small step at a time!
Have a fabulous week friends!